Lefty's Bagels was founded by brothers-in-law Doug Goldenberg and Scott "Lefty' Lefton. Scott had the dream and Doug had the plan. The dream began with a quest to achieve, "bagel perfection". "I wanted to be able to create an authentic New York Style at home but also make it my own" said Lefton. A constant tinkerer Scott experimented with many recipes till he came up with bagel recipe of his own that was appreciated by many friends and family. The dream remained a dream until Doug, a thorough planner helped devise a business plan to bring the bagels to market. Key to this plan was to rent hours from a co-operative bakery called "The Bakers Hub". The Bakers Hub allowed Doug and Scott to launch Lefty's Bagels as a weekend's only bagel "Pop Up". "By renting hours in the bakery and using the retail store-front we were able to bring freshly baked bagels to market on a small scale. It also allowed us to hone our skills as bagels makers and grow our business." said Goldenberg. To their great excitement a line formed on opening day, they sold all their bagels in less than an hour and the rest as they say is 'Lefty's Bagels' history…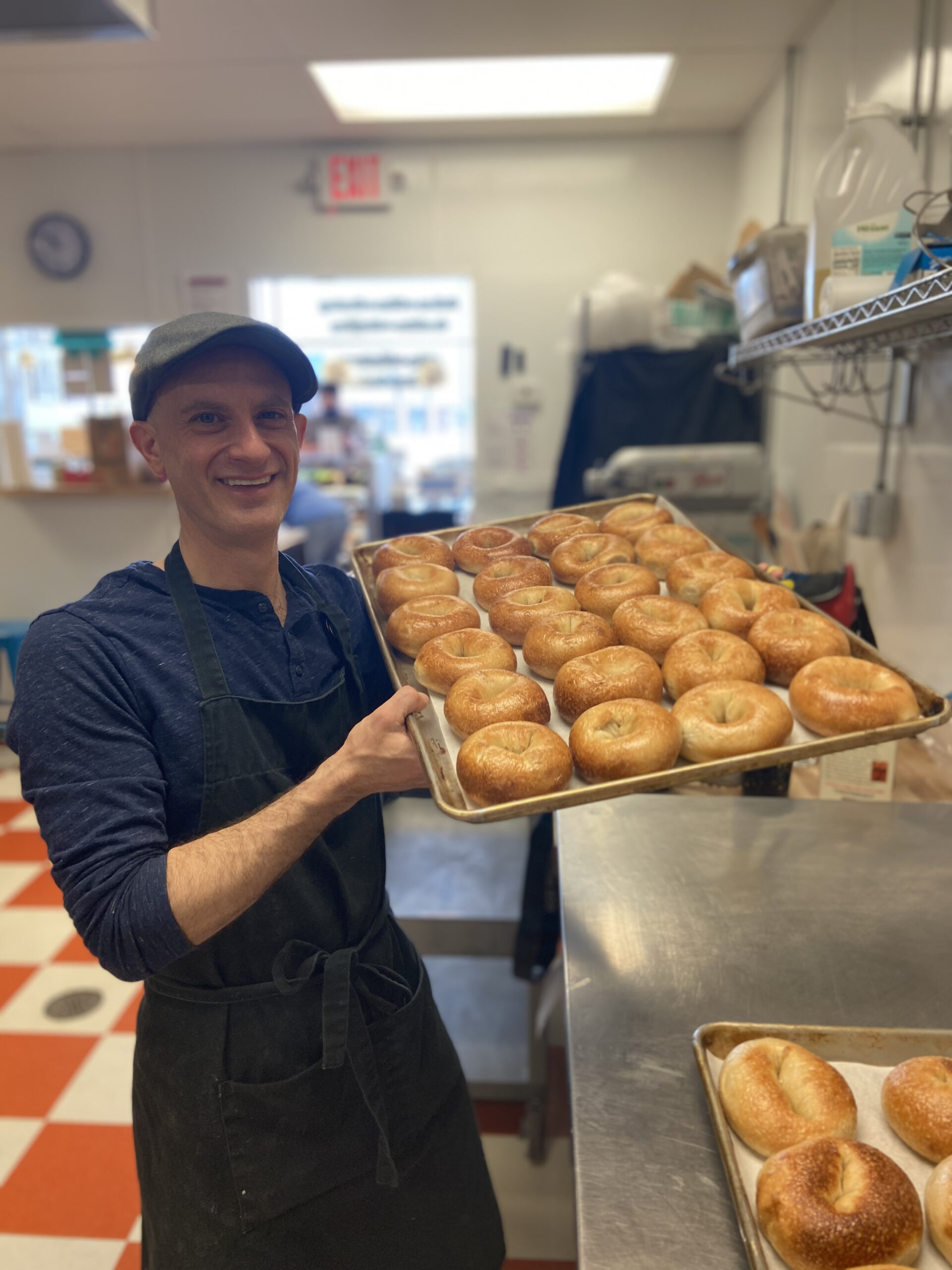 Lefton making a batch of Bagels in The Bakers Hub
The success from the Bakers Hub inspired the partners to go ALL IN and build the bagel café of their dreams. They would not only make bagels but would offer sandwiches, deli meats, coffee, much more, and would be open full time. We believe we honor the past by the making bagels the way they were historically made. Lefty's uses only high quality ingredients and most importantly by boiling the bagel first, then baking. We use a special burlap lined bagel board, and revolving deck oven which helps gives Lefty's Bagels a golden crispy crust and soft chewy crumb.
In the summer of 2022 Scott and Doug began construction on Lefty's Bagels at 13359 Olive Blvd. and the rest as they say is history. We now offer St. Louis high quality bagels, and deli meats. We are a proud partner of Kaldis Coffee, brewing freshly roasted local coffee daily. You will always find great food, excellent customer service, and a family friendly atmosphere at Lefty's Bagels.
We owe a huge thank you to our spouses, Jenny and Liz for all of the support you have given us in our journey. Also, our parents have provided overwhelming love and guidance, without which none of this would be possible. Lastly, we would like to give a special shout out to all of our mentors and collaborators who have helped us along the way – you know who you are!